The Playful Learning Academy
| Service | |
| --- | --- |
| Infants | |
| Toddlers | |
| Preschool | |
| Pre-K | |
| Kindergarten | |
| Pre-K | |
| Allows early drop-off | |
| Allows late pickup | |
| Provides transportation | |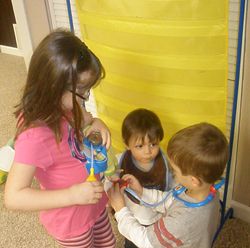 Mission Mission Statement: To provide a high-quality, developmentally-appropriate, educational early childhood experience in a nurturing, safe, and engaging home-based environment that fosters active learning. Vision: To instill, in each child, a genuine desire for lifelong learning, and to expose children to a variety of concepts and skill sets early enough to ensure confidence and competency in kindergarten. Description The Playful Learning Academy is a licensed home based child care in Eagan, MN, owned and operated by Sarah Price. Sarah is a MN licensed teacher with 15 years experience in Preschool and Elementary education. Sarah is also certified in CPR and First-Aid. Our daily activities are designed to provide appropriate experiences in the following early childhood development areas: Social Development • Getting along in groups • Learning responsible behavior • Expressing feelings appropriately • Respecting differences Cognitive Development • Promoting curiosity by encouraging observation, exploration and experimentation • Building reading and writing skills • Providing experience with math and science Language Development • Listening • Speaking • Following directions Physical Development • Developing fine and gross motor skills • Increasing body awareness • Improving eye-hand coordination and perceptual skills • Exploring rhythm and movement Emotional Development • Promoting positive self image • Fostering cooperation • Developing independence, initiative, and trust Creative Representation • Encouraging talents • Fostering imagination and creativity • Supporting and expanding ideas • Building skill sets • Experiencing art, music, drama, and dance CALL TODAY TO SCHEDULE A TOUR! Phone: (612) 770-4831 Address: 1850 Jade Lane Eagan, MN 55122 E-mail: sprice@theplayfullearningacademy.com VISIT US ON THE WEB! Website: theplayfullearningacademy.com HOPE TO SEE YOU SOON!
Contact Information
license_granted: 0000-00-00
license_expires: 0000-00-00
Special Services
Many schools and daycare centers offer special services such as bi-lingual and translation services, food programs, special needs assistance.
Cost and fees
This costs, tuition, and fees for this facility are subject to change without notice. If you are aware of any unpublished costs please comment below.
44.808686,-93.199992